This Exclusive Palapon Weight Loss Camp & Fitness Retreat Course is strictly for Ladies ONLY! Sorry Gents!
Strength & Flexibility Course Features:
* Personalized Body Sculpting Training Program
* 2 Michelin Star Chef inspired Nutrition Workshop
* Before & After Body Composition Scans
Tailored to your individual needs and suitable for ALL ability levels and ages.
Finally achieve the Body & Healthy Lifestyle you want!
Contact us to BOOK your course today!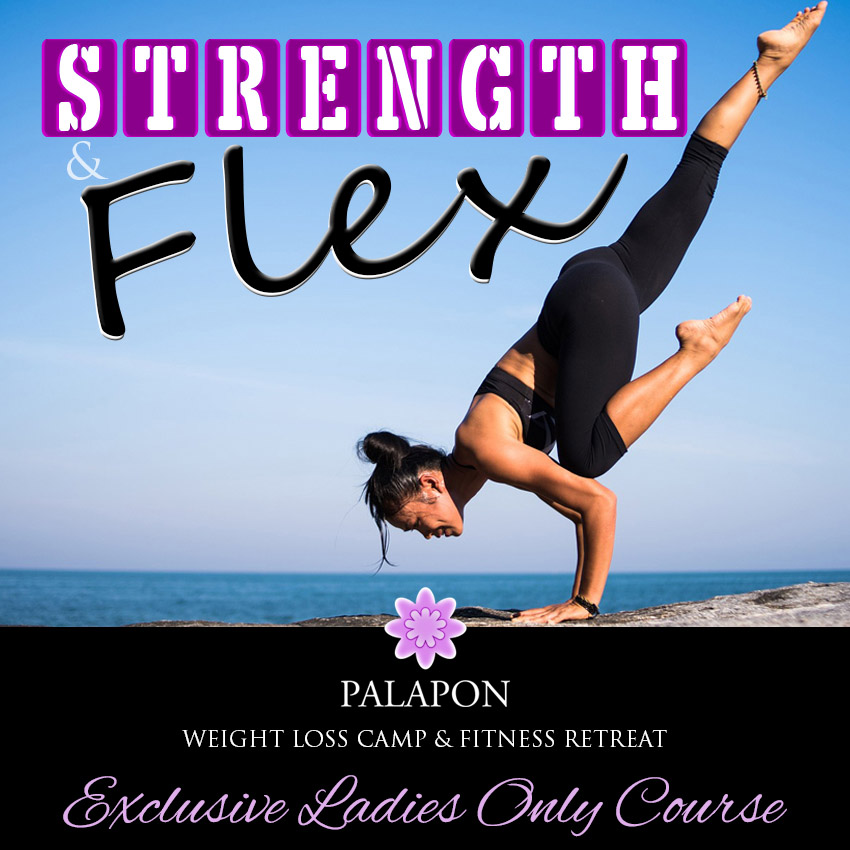 Strength & Flex Course ~ What to Expect
Getting Started
Upon arrival we will discuss exactly what you want to achieve and design a custom body sculpting training program tailored to suit your individual needs and body shape goals.
We will then conduct your arrival Body Composition Scan and Health Assessment. Please note it is most important to disclose any pre-existing medical conditions so we can ensure your training program is safe and suitable for your body.
Changing your Life
Classes will include: Yoga, HIIT, Muay Thai, Calisthenics, Self-defense, & Fitness Boxing Training. The physical training element of the course is very INTENSE, but don't worry our professional, fully qualified Instructors will be there to motivate and support you throughout.
Training is 4 days per week and a healthy lunch is included.
We provide a 2 Michelin Star Chef inspired Nutrition Workshop as part of the course to give you an overall understanding of the importance of the correct nutrition.
Once you enter the gates at Palapon you become part of the family and we are extremely committed to our family members.
When you leave Palapon for the last time, you will be filled with confidence and wearing the biggest smile.
Training in Tropical Thai Paradise
There's something extra special about training at Palapon… the beautiful tropical surroundings and connection with nature. Being based only meters away from the sandy beaches of Hua Hin in Thailand means that you not only get to enjoy training within the tropical Palapon grounds, but on the beach too!
Course Price & Schedule
Courses can be booked in weekly segments and are subject to a minimum 2 week commitment.
The price depends upon how long you need the course to be. We operate a weekly sliding scale discount, so the longer you book in advance, the more you save:
Weekly Prices:
2 Week Course: 9000 THB per week (Total 18,000 THB)
10 Week Course: 8000 THB per week
18 Week Course: 7000 THB per week
26 Week Course: 6000 THB per week
Please contact us for the current course schedule and next available start date.