Customized Fitness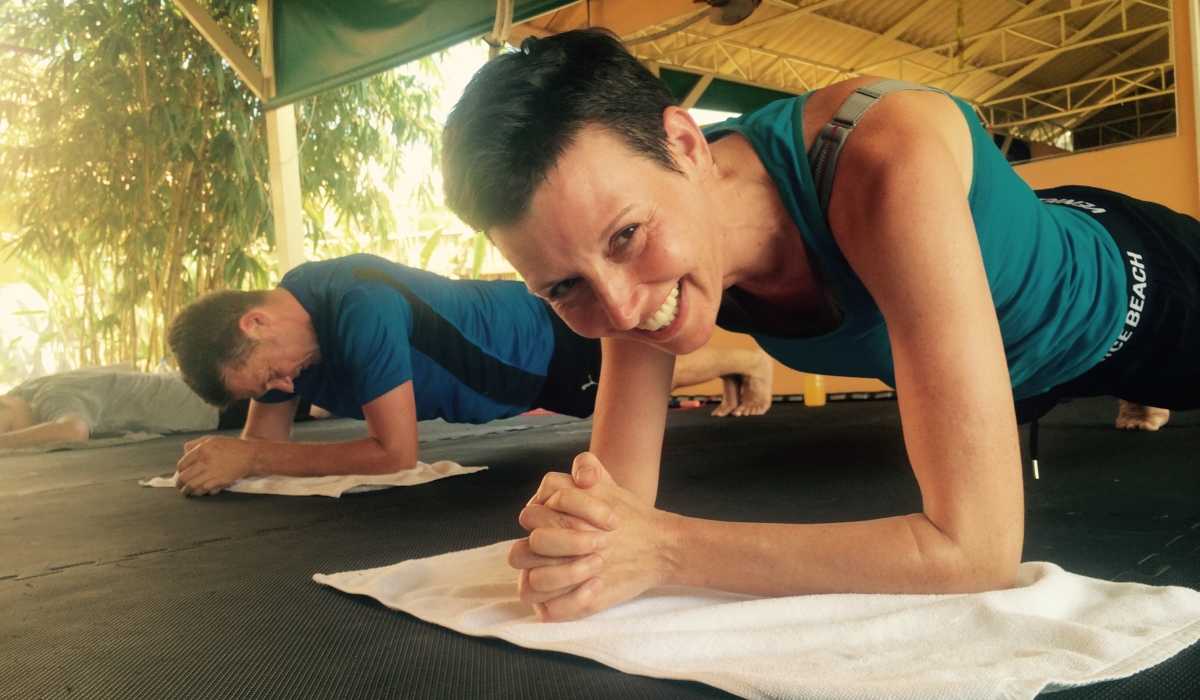 At Palapon we design a training program specifically for you, based on your individual profile.
When designing your program, it is very important to have a long-term plan. While day to day workouts are what most people think of when picturing their personal trainer, the real results do not come overnight, the cumulative effects of workouts produce the dramatic results.
The program starts with a one-on-one private Health & Fitness Assessment. Based on this, your program is personalized to ensure maximum effect based on your current condition.
Health & fitness evaluation allows an understanding of where you're starting from, aids in the design of your program, and provides progressive baseline for monitoring improvement during your journey.
This truly makes your personal training, personalized and highly specific to your needs and goals, so that you can achieve optimal results while reducing risk of pain, injury and muscle loss.
While participating in the Palapon weight loss and fitness camp, your days will be spent doing a variety of exercises, ranging from Yoga, group fitness classes, TRX, cardio boxing and more in a small group dynamic. You will challenge yourself with a fitness experience unlike any other.
For a balanced fitness program, strength training is essential. It can slow the muscle loss that comes with age, build the strength of your muscles and connective tissues, increase bone density, as well as cut your risk of injury.
When you lose weight through dieting, up to a quarter of the loss may come from muscle, which can slow your metabolism.
The Palapon program will help you to rebuild any muscle you lost -- or keep you from losing it in the first place.
Not only does it make you look trimmer and shapelier, but building muscle also helps you burn calories -- even after your workout is done.
Each workout you participate in, are always supervised by a trainer.
---
Why we don't offer free use of facilities?
Effective Workout Plan - this is an important factor in personal training program. Your personal trainer know how to effectively design a workout plan so you don't waste your time and money and enjoy a exercise session which brings results based on your health profile, fitness assessment and fitness goal.
Form, Technique, and Breathing - during exercise has to be supervised. 90% of unsupervised gym members are not exercising with proper technique, good form, and breath at all.
Injury Prevention/ Rehabilitation - A personal trainer knows human anatomy, physiology, and kinesiology that can understand muscle tissue recovery and progression training, LET THEM HELP YOU to prevent further injury, damage to joints, and ligaments. Injuries can regress if you are not following a right exercise routine.
MOTIVATION - A personal trainer is motivating, positive, and can push you beyond believe to remain in a program, continue, and reach your desired goals.
---
A personalized, intelligent and effective approach to fitness.
Your plan will be tailored to your personal goals and current fitness level.
The plan will include all exercises that match the needs for your body.
Detailed explanation of how to perform each movement.
Week by week plan for how to archive your fitness goals or lose body fat and master movement effectively.
Your body type, activity level and current rate of training experience.
This is not a workout program! it's a complete guide to understanding your body.
We will explain how to optimize your fitness routine based on your goals.
The plan will continue to change as your body changes.
This is a program designed for rapidly effective and easily maintainable results.
small group setting guaranties for personalized attention
---
Morning Walk/Run
The best way to start the day is an early morning walk or run on the beach of Hua Hin. Besides the beautiful view enjoy the wonderful air and the sounds and scents of the sea (At hide tide we will walk through the scenic fisherman village)
[Read More]
---
Yoga
Your daily yoga will be designed to focus on the wide health benefits of yoga - offering good exercise without pushing you too far.
[Read More]
---
Calisthenics
Calisthenics is a bodyweight training system that builds serious levels of strength and conditioning, melts fat off your body and helps build lean muscle.
[Read More]
---
HIIT
Interval training is simply alternating bursts of intense activity with intervals of complete rest and is one of the best ways to get in shape.
[Read More]
---
Cardio Boxing
Experience the training and the nature of Thai Boxing in the motherland of Muay Thai that creates a strong mind that is courageous, intelligent and disciplined.
[Read More]
---
Mobility & Posture
Flexibility is specific and if all you're doing is passive, static stretching, you're not improving your range of motion.
[Read More]